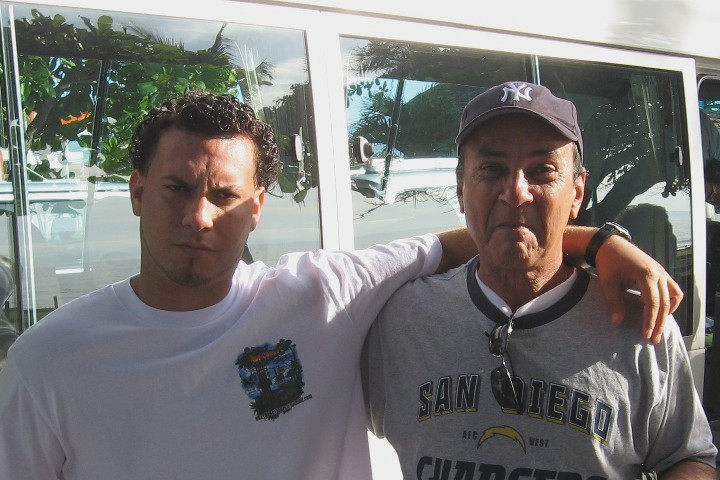 Let me introduce myself. I am Charlie Soto with one of my sons, Jason.

I now live in beautiful Sarchi, Costa Rica with my family. We moved here to better serve my tour customers. We are now located 25 minutes from San Jose, 30 minutes from Poas Volcano and more centrally located to serve the ports of Limon and Puntarenas. From our new location I can more easily support tours on both coasts and around our capital city of San Jose.
My occupation for over 20 years has been as tour guide to many sights around Costa Rica. Some of these sights include Tortuguero Canal Boat trips, Brisas Zipline adventure, Animal Sanctuary, and many other unique and interesting places to visit. My tours are personalized to the individuals on the tour and often include stops at the beach, restaurants, and shopping for the great Costa Rican Coffee and other local crafts. My tours provide the opportunity to see the lush Costa Rican rainforest with it's beautiful flowers and unusual animals. Recent additions to our tours are wonderful Deep Sea fishing adventures. It would be my honor to provide a professional host and tour guide for you. I can arrange tours for any size group and we can provide custom vans with ramps for our guests in wheelchairs. All of our vans are air condition for your comfort. Please give me the opportunity to show you beautiful Costa Rica.
I lived in San Diego, California for 3 years and therefore speak good English for my English speaking tour friends. My Cruiseship tours are conducted from the cities of Limon (Caribbean side) and Puntarenas (Pacific side). We will pick-up cruiseship passengers at the docks just outside the port gates the morning of the tour. We can pickup our tour guests flying into the Juan Santamarķa International Airport in San Jose, Costa Rica.
Contact Information
Please send an Email to okeydokeytours@hotmail.com and I will respond very quickly to your questions. You will be pleased with the variety and pricing of my tours. Our tour vehicle will be modern, air conditioned, very comfortable, fully insured and with an excellent driver in addition to a wonderful tour guide. Another bonus of my tours is that I include admission fees, lunch, cold bottled water, soft drinks and beer, free of charge to my customers. Cruise Critic members will receive a 10% discount on all tours.


We now have tour information (Tours) and pictures (Gallery) of tour sights for your information and viewing enjoyment.
Thank you and may God bless you.
Charlie